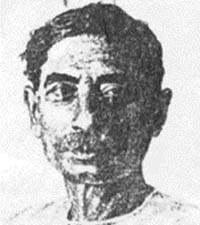 'Ramzan ke poore tees roze ke baad id aayi hai, …kheto me ajeeb raunaq hai,aasman par ajeeb lalima hai' – Idgah
Munshi Premchand was arguably the greatest story writer in the Hindi/Hindustani language. He started writing in the Urdu script under the pen name Nawab Rai but later shifted to the Devnagari script to be accessible to a wider audience. Later he self-translated some of his earlier works so that they were widely accessible.
One of his most well known and widely read stories (read by three generations through school texts) is Idgah. It is the story of Hamid, a four year old poor orphan boy, and his day on Id. The story is a typical Premchand style, something which was a halmark of his writing. He used to describe human conditions and emotions in such a real and heart touching way that readers would feel that they are a part of the event being described. Idgah is no different.
It is creditable on the part of Premchand the way he has so closely described the nuances in the story.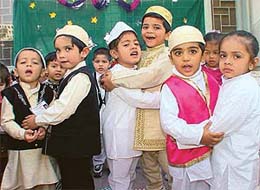 He has described things from the eyes of a four year old Muslim child and particularly as he himself would not have lived that phase in his own life. Reading Idgah today brings fond memories of our own childhood and the importance that was attached to the Idi. His narration of the children taking out the Idi from their pockets and counting it again and again and comparing with each other of how much Idi the other has received takes the things as close as they could be! The children used to wait for this day so that they could get the Idi and plan it out even months ahead what they would buy with it.
Also his description of the fasting by the children where he mentions that some may have kept only one fast and that too only to the noon shows his extremely close proximity to what these things meant. When we were small kids and would really want to fast in Ramzan while watching the elders doing that we would be allowed in our own kid fasts. The elders would playfully say to keep what they would call 'ek gaal ka roza' meaning you eat only from one side of the mouth. Or then they would say to keep half roza the same what Premchand describes.
Premchand also shows his close knowledge of the happenings of a typical household on the Id morning. Whether it be in people running for getting the sugar for the sewain or the children waiting impatiently for it to be ready. Similarly Ameena's thoughts about when she would prepare the sewain if she goes with Hamid to the Idgah.
But ultimately the story is about the bonding between Hamid and Ameena (the orphaned kid and his grandmother). Ameena's concern for Hamid when he is going to the Idgah without his father and Hamid's struggle with his own little self to overcome the attraction of the sweets, the games and the toys while all the other kids are not only enjoying those but even showing it off to Hamid in their kid rivalry depicts this. The four year Hamid successfully overcomes all of these – games, sweets and toys – and saves his three paise to stop at a hardware shop and buy a pair of tongs.
Finally when he brings it home and gives the tongs to his grandmother she scolds him in a typical way as he could not find any better thing to buy from his Idi. When he describes that he bought it for her as that would save her fingers from getting burnt she breaks down. The way Premchand describes this, touches the elements in one's soul.
Reading this story gives a glimpse to an era gone by. It is tough to find people today across religious boundaries who would know about these details so closely. The story is filled with love and positive human emotions.
Id Mubarak to you all!