This news definitely deserves a post even if it means straying away from our regular topics. India has won the inaugural Twenty 20 World Cup at Johannesburg defeating arch-rivals Pakistan by 5 runs. Finally cricket-lovers had a deserving final match in a big tournament with the game swinging like pendulum till the very end. It went down the wire but Indian team kept their cool to win the match. Great performance by everyone especially the
captain MS Dhoni who backed his players and used them well throughout the tournament. The most important thing is that India did it without the top three players, Tendulkar,Ganguly and Dravid and that is a great sign for the future of cricket in India.
Indian Innings (157/5 in 20 overs)
The Johannesburg pitch has played nicely in this tournament and it was true for this final match as well. However, the ball was a bit slow in coming to the bat than previous matches. Yusuf Pathan gave India a decent start by opening his account with a big straight six on Asif.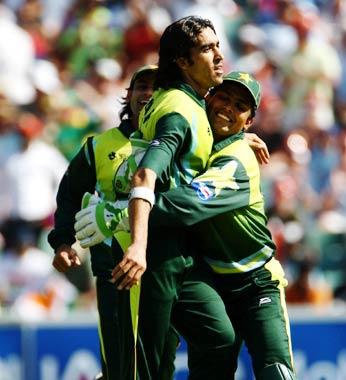 However, he lost his wicket trying to go for the big one with Shoaib Malik taking a good running catch. Gautam Gambhir was in prime form and was striking the ball well. The good thing is that India did not let Asif to settle down who has been their nemesis in the past. Pakistani spinners bowled well and Umar Gul was tremendous with the ball as has been the case throughout this tournament. He dealt big blows to India getting three crucial wickets. Yuvraj Singh was out of sorts today and even though he took some time to get his eye in, his timings was not up to the mark today. Rohit Sharma once again made a strong case for his ODI inclusion by showing that he has a mature head and can strike the ball confidently. Indian batting never really took off with wickets falling at regular intervals and Gul, Afridi, Arafat and Tanvir all bowling well. But to the heroics of Sharma in the end, India could have just fallen short.
Pakistani Innings (152 all out in 19.3 overs)
RP Singh, the pick of Indian bowlers for this tournament, started magnificently for India picking up Hafeez with his fifth ball. Sreesant, however, couldn't repeat his performance against Australia and bowler either short or wide letting Imran Nazir play his shots. Nazir, who is an attacking batsman, looked in good touch today and was threatening to take the game away from India before he was run out due to a direct hit from Robin Uthappa. Just before he got out, he asked the umpire for a runner and was refused because it seems he was carrying the injury from the previous game.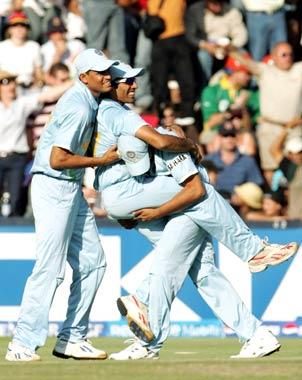 Also, there was a controversy in the semi-final with New Zealand even though allowed him a runner felt that he didn't really need one. Then came the sensational over by Irfan Pathan when he removed Younis Khan and Shoaib Malik, the two mainstay of the Pakistani batting lineup. However, they still had Misbah-ul-Haq to contend with who almost did it for Pakistan. His selection for this Pakistani team was criticized severely especially when it came at the expense of Mohammad Yousuf. Haq silenced all his critics by playing brilliantly during the death overs. He batted with composure and played his shots but was running short of partners at the other end. Sohail Tanvir then swing the pendulum in Pakistan's favor by hitting Sreesanth for two big sixes. Sreesanth had his revenge when he removed Tanvir with his last ball. RP Singh bowled a great 19th over under pressure by giving only 7 runs and taking the wicket of Umar Gul. However, a boundary off his last ball meant that Pakistan had to score 4 less runs and most importantly, Misbah was on strike. 6 balls and 12 runs to score with one wicket remaining for Pakistan. God couldn't have scripted it better.
First ball goes for a wide, second ball missed, third ball went for a six. Now, 4 balls left with only 6 runs to score. Misbah wanted to finish it off as quickly as possible with the previous encounter with India fresh in his mind. He tried the 'Ashraful' shot but only managed to scoop it to Sreesanth who looked composed and took the most important catch of his life. India wins by 5 runs. Misbah was desolate at the crease but you have to give it to him. He played one great knock and almost won the trophy for Pakistan.
A Tale of Two Captains
Both India and Pakistan were led by new captains with a relatively newer team. While Pakistan did not have Muhammad Yusuf and Shoaib Akhtar, India went without Dravid, Tendulkar, Ganguly and Zaheer Khan. The newcomers grabbed whatever chances came their way, posing a dilemma for selectors in the upcoming series. Credit is due to both Malik and Dhoni for the way they marshaled their troops and reached the finals by playing some great cricket. Zimbabwe and Pakistan defeated Australia during league matches and Super 8 showing it to others that it was doable. India then knocked Australia out of the contention during the epic semi-final game. Pakistan on their turn defeated a listless New Zealand.
It can be argued that with mostly younger players in the team gave an opportunity to both Dhoni and Malik to shed the baggage from the past and lead from the front. Dhoni has a good cricketing brain, plays attacking cricket and is composed even during tense overs. Indian selectors reposed their faith by choosing him as the ODI captain midway during this tournament and it would have done wonders to his confidence. Malik, on the other hand, had to deal with controversy regarding the team selection as well as the much publicized spat between Akhtar and Asif. However, their team put the controversies behind themselves and gelled well as an unit. They looked happy playing their cricket and that is the way it should be. Credit also goes to Geoff Lawson who has done a decent job as a coach during a short period of time.
Positives for India
Irfan Pathan's return to swing and pace has been the highlight of this tournament and he will be looking forward to re-uniting with his partner, Zaheer Khan, against the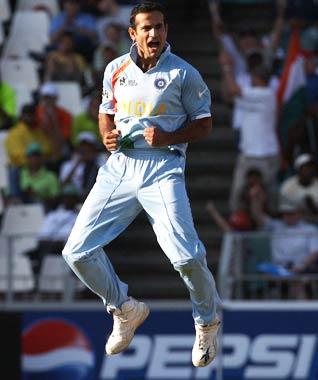 upcoming series against Australia. Pathan knows how important it was for him to perform and showed urgency in not only batting and bowling but also while fielding in the deep. His spell of 3 wickets for 16 runs in 4 overs was crucial that deservedly won him the man of the match award. Yuvraj Singh also left Caribbean disappointment behind him and was the difference between the two teams in at least two matches. He made a record of six sixes in an over and has been middling the ball quite well. His electric fielding also helped to raise the overall level of Indian fielding in this tournament.
Rohit Sharma, when finally his chance came, grabbed it with both hands with a scintillating 50* against South Africa. He doesn't looks like a 20 year old and a promising career lies ahead for him. Robin Uthappa was also good in patches but needs to be consistent. However, his fielding is amazing and he created openings for India with his run-outs at crucial stages. Gautam Gambhir also played some fine knocks with 3 fifties and looked comfortable opening with Sehwag, his Delhi team-mate. Sehwag, meanwhile, still is nowhere near his best and is susceptible to balls outside off-stump.
Overall, the Twenty 20 World Cup has been a good advertisement for this format of the game and the public seems to have taken to it. Matches are only 4 hours long and are packed with excitement. Moreover, reputations don't count much and any team can be defeated by any team as Australia found out against Zimbabwe and West Indies against Bangladesh. Whether this format will take away the viewers from ODIs remains to be seen. As of now, we can just savor the victory.
Congratulations Team India!