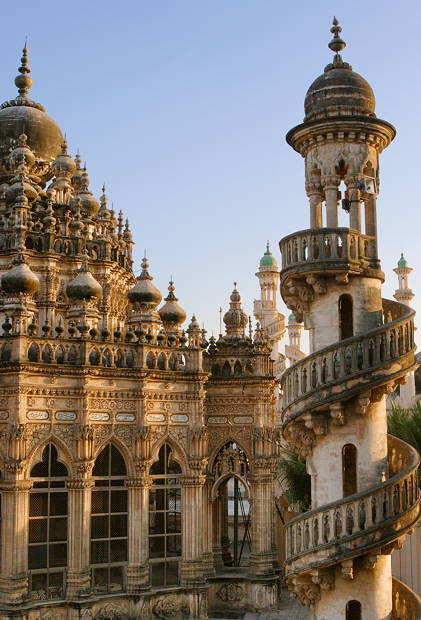 On the 24th of last month, the body of a 94 year old poet prince was led to rest. He was Imamuddin Khan Babi, who wrote poetry by the pen name of Ruswa Mazloom, and was the erstwhile ruler of Pajod, a small jagir in Junagadh district of Gujarat. Few in India have heard his name, and even fewer know that in spite of being the jagirdaar of one of the smallest princely states in India he towered above the other princes of pre-independent India.
During partition, when almost all the rulers of the princely states of Junagadh region including Junagadh, Manavadar, Mangrol and Sardargadh, decided to go with Pakistan, Imamuddin said that India was his motherland and his subjects were like his children, and he could not betray his mother and his children. Imamuddin Khan refused to merge with Pakistan in spite of the fact that most of his relatives were leaving for Pakistan and he was also offered the governorship of Pakistan by the grandfather of the late Benazir Bhutto, who was also a Babi and Diwan to the then Nawab of Junagadh. Sardar Patel was touched by Imamuddin Khan's gesture of patriotism and instructed the government to sanction an annual honorarium of Rs. 10, 000 to him, which Imamuddin Khan continued to receive till his death.
During the communal riots of 1947, a dargah in Pajod, was destroyed by rioters. Instead of rebuilding the dargah, Imamuddin Khan chose to build a library there. This library stands today as a lesson to every Indian who talks about destroying or rebuilding temples and mosques in disputed areas.
According to historical sources, the Babis came to India from Kanadhar in present day Afghanistan, at the time of Humayun. They worked with the Mughal emperors as their governors or generals. As a reward for their services, the Mughals gifted them with jagirs – large tracts of lands over which they ruled as jagirdars. After the fall of the Mughal Empire the Babi Pathans founded the Nawab dynasty of Junagadh in 1748, which continued up to 1947.
During his brief rule of twelve years, Imamuddin Khan provided his subjects with electricity, established a full fledged hospital in his mother, Zenab Bibi's name. The doctors of this hospital would offer free services to their patients and even visit them at home. Imamuddin Khan also established a school for Harijans, started a sports club by the name of 'Isharat'. He appointed a Harijan woman as its secretary. He also formed a volley ball team of his state and trained two Harijans to become a part of this team. At the time when the king was the owner of the entire land of his kingdom, Imamuddin Khan introduced a law whereby the farmer who tilled the land became its sole owner.
After independence, he became a member of Congress Seva Dal and continued to work for the progress of his erstwhile state. A lover of poetry, he wrote ghazals in both Urdu and Gujarati, and was popularly known as 'Ruswa Sahab'. His Urdu collection is titled 'Madira' and his Gujarati collection 'Meena'. His ghazals were based on love, compassion and humanitarian values. Imamuddin Khan offered royal patronage to poets like Amrut Bhatt alias Ghayal, Ali Khan Baloch alias Shunya Palanpuri, who are now considered among the prominent poets of Gujarat. Several years ago Imamuddin Khan established an amateur association of poets called 'Milan'. Imamuddin Khan is survived by his son Ayaz Khan. He works as a librarian at the Raj Kumar College in Rajkot and is married to a Hindu lady, who continues to retain her Hindu name – Kirtida.
One of Imamuddin Khan's own couplet would be an apt epithet to his memory:
Aadmi amal se khud apna faisla kar le,
Ek kadam par dozakh hain, ek kadam par jannat
(Let man decide his own fate by his deeds,
On one side is Hell and on the other Heaven)