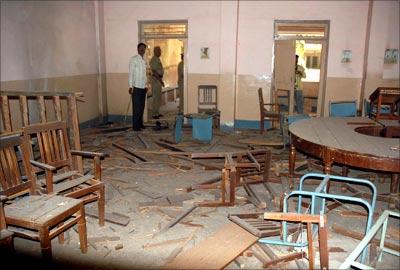 On 10th May 2008, a blast rocked a magistrate court in Hubli, Karnataka where seven SIMI members suspected of terrorist activities were to be produced before the court. No one was hurt in the blast and Maharastra police later arrested Zakti Shaukat Ali Iqbal Ahmed who was then transferred to the Karnataka police for further investigations.
The incident and the arrest was widely covered in the media and rediff.com reported that the Hubli blast was linked to Mecca Masjid and Ajmer Dargah blasts.
A day after the blast at a court hall in Hubli, the police have found a vital clue in the form of a SIM card, which was used in the mobile phone to trigger of the blasts on Saturday. The Hubli police are now trying to link both the Ajmer and Hyderabad blasts in which the bombs were triggered by cell phones. [Rediff.com]
As it turns out the Hubli blast was perpetuated by Nagaraj Jambagi, a dacoit with links to a Hindutva organization, Sri Ram Sena.
"Following his arrest Jambagi confessed to his role in the Hubli court blast of 2008. When we searched his house it led to the discovery of a pipe bomb. We don't know what group he is associated with. We are trying to find that out," Inspector General of Police, Northern Division, Raghavendra Auradkar said.

Sources in the state police intelligence however told The Indian Express that Jambagi and two others in his gang — Ramesh Pawar and Lingaraj Jalagar, both 24 and from Bagalkot — "are members of a radical right wing Hindu group". The police were trying to find out "who was controlling their activities", a senior officer said.

Sources in Hubli said Jambagi at one point had links with the Sri Rama Sena, a right wing group started by the firebrand former Bajrang Dal leader from the region, Pramod Mutallik. [Indian Express]
This revealation comes on the heel of the arrest of Sadhvi Pragya Singh Thakur and Lt Col Shrikant Purohit amongst others for their involvement in the 2008 Malegaon blast.
Indian Muslims have long protested that after every terrorist incident, youths from the community are randomly arrested to show that the police is doing something and then released quietly when nothing is proven against them. On the other hand no serious line of investigation has been pursued against Hindutva extremists even when there were many indications of their involvement.
On 6th April 2006 there was a blast in Nanded, Maharastra where two Sangh Parivar activists were killed when a bomb they were making exploded.
The blast occurred very early on the morning of April 6 in Nanded, at the residence of a retired irrigation department engineer and RSS worker, Lakshman Rajkondawar. It killed his son Naresh Lakshman Rajkondawar, and one Himanshu Venkatesh Panse. Three others, Yogesh Ravindra Deshpande Vidholkar, Maroti Kishore Wagh and Gururaj Jayaram Tuptewar, were seriously injured. Another injured, Rahul Manoharao Pande, managed to flee from the scene of the explosion, but was arrested later. [Tehelka.com]
Fake beards and skull caps were also recovered from the house. India Today now reports that the CBI didn't pursue Nanded blast investigation throughly.
The CBI's slack investigation into the Nanded blast is getting exposed with every new development in the Malegaon bombing.

Despite recent disclosures of Malegaon accused Rakesh Dhawade, the CBI has not pursued the case of two teachers of chemistry in Pune.

Dhawade, a suspect in the Malegaon case told Jalna Police how two Pune college teachers gave training in bomb-making to Hindutva terror suspects. But the CBI, which is investigating the Nanded blast that accidently killed two Sangh Parivar activists in 2006, has been dragging its feet despite questioning one of the teachers.

Dhawade arrested for his involvement in the Malegoan blast has named Sharad Kunte, a professor at Narsooji Wadia College in Pune, and K. Deo, who trained Hindutva terror suspects to make pipe bombs at Akansha resort, also in Pune, in 2003.

Kunte was the VHP's Pune unit president for several years.

It was learnt that the CBI had questioned Kunte a few months ago, but didn't bother to question or arrest him again after Dhawade's statement. [India Today]
Malegaon residents believe that the Malegaon blasts could have been avoided if there was a proper investigation after the Nanded blast.
It is interesting to note that the police found a pipe bomb at Nagaraj Jambadi's house in Hubli and Rakesh Dhawade claiming that Sharad Kunte taught him to make pipe bombs in Pune.
Similarly on 2nd May 2006 there was a blast in Ghatkopar Chawl in which one Rama Bharti died while making a bomb. Use of ammonium nitrate and gun powder was confirmed in the blasts. Maharastra police then arrested Manoj Kumar Singh and also Vineeta Verma from Lucknow. She was believed to be a carrier for explosives from Lucknow to Mumbai.
On 24th January 2008 a blast rocked RSS office in Tenkasi, Tamil Nadu and three Hindu Munnanis activists were arrested. The idea was to create communal tension just before the Republic Day.
Speaking to reporters at Tenkasi on Monday, Inspector General of Police, South Zone, Sanjeev Kumar, said S. Ravi Pandian, a cable TV operator, and S. Kumar alias KTC Kumar, an auto driver, both hailing from Tenkasi, and V. Narayana Dharma of Shencottai had fabricated 14 pipe bombs in Mr. Pandian's office. [The Hindu] 
Pipe bombs again.
On 27th August 2008, Rajiv Mishra and Bhupinder Singh were killed in a Kanpur, Uttar Pradesh hostel room while assembling bombs. Both were members of Bajrang Dal.
The police have found a diary and a register from Mishra's room which contained contact numbers of the office-bearers of various Hindu organisations in Gujarat, Delhi, Rajasthan and Maharashtra, sources said.

Kanpur SSP Ashok Kumar Singh said, "Though test reports from FSL, Agra, will take some time, we know that the explosives stored in the room were enough to cause damage. Mishra and Singh had held significant posts in Bajrang Dal in the past, and the investigation so far clearly indicates their objective." DIG of ATS Rajiv Krishna said, "Their intention was to plant bombs. The probe will further decipher the motive." [Indian Express]
A chargesheet filed by the Maharastra Anti Terror Squad (ATS) in October 2008 states that 36 Bajrang Dal activists received systemic training in bomb making and then used it to bomb Mohammadiya Masjid in Parbhani in November 2003, the Quadriya Masjid in Jalna and Meraj-ul-Uloom Masjid in Purna in August 2004.
These revealations when seen from a bigger context are very alarming especially with links pointing to Sangh Parivar members or its off-shoot organizations. Even more so when one of the two major Indian political parties considers Sangh Parivar as its spiritual fountainhead. It is important to note that the involvement of Sangh Parivar's hierarchy in these incidents is neither alleged nor proven. But it is safe to say that if members of Jamaat-e-Islami-Hind (JIH) were remotely involved in such incidences then the media coverage (and consequently the public perception) would have been entirely different. And God forbid if they were ever associated with the Congress party!
Now, we are treading on very dangerous ground here.  Whereas the objective of Islamist terrorist organizations go far beyond responding to Hindutva attacks, such revealations might feed into their "Indian Muslims are under seige and Islam khatre meN hai" propaganda. At the same time any serious investigation will have to proceed under the shadow of Hindu victimhood. Also with general elections round the corner there is always a danger of politicization of the whole issue.
Terror investigations should never be conducted as a method of "getting back" at a community. But it is also important for a democratic country like ours that all such incidences are properly investigated to their logical conclusion. Media should get into the habit of asking tough questions. India's interests will be best served when all of us unequivocally condemn terrorism in all of its forms. Terrorism in an Indian problem, not a Muslim problem or a Hindu problem and needs to be tackled as such. 
Image Courtesy: Hubli Court Blast